MONTY PYTHON'S LIBRARY COMMISSION CIRCUS
The meeting at which the commission voted to cut library hours was attended by many members of the public, who suggested ideas for raising money and avoiding the closings. "None of this was ever talked about by the commissioners," SOCOSOL's Bliss recalls. "And since that time, they have been unwilling to engage in a process to bring back the hours."
Of particular concern to the commission's critics was a decision made at the same June 20 meeting to spend a whopping $500,000 on a temporary relocation of the city of Sonoma's library so that it could be upgraded with state redevelopment funds. The commission selected the social hall of the First Congregational Church—where Sonoma's library commissioner Mary Evelyn Arnold was an officer—as the best site for the temporary library. It paid the church the equivalent of $14,100 per month for eight months' rent, as well as about $400,000 for improvements, many of them permanent, to upgrade the church space.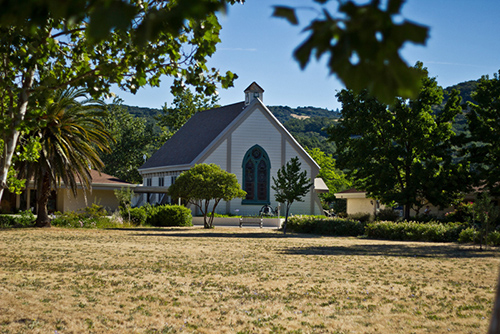 Nadav Soroker
THE CHOSEN SPOT Library commissioner Mary Evelyn Arnold's church received a handsome $500k to temporarily house the Sonoma branch during remodeling.
In contrast, later that year, when Sebastopol's larger library needed a temporary home for its four-month-long renovation, the commission was able to move services to Sebastopol's Community Center—at a cost of just $10,000.
"It should not cost $500,000 for a temporary library in Sonoma and just $10,000 in Sebastopol," observes Bliss. "This is when I went crazy."
Arnold, in response to questions about the cost of the move, noted that she recused herself from the vote to approve the funding for the move to her church. (To this day, Cooper defends the expense, noting that "we probably spent less than we would have on other available spaces.")
Arnold also recently announced that restoring hours was not even on her "top 10" list of spending priorities. "The library has many pressing needs," including increased staffing, technology, pension liabilities and materials, she explains to the Bohemian. "I believe most communities, including Sonoma Valley, have made their peace with Monday closures. It is not a top priority of mine."
Tim May, the current chair of the library commission, explains in an email that he was "seriously ill" during the time of the June 20 hearing. He says that although it would have been legal to use the rainy-day funds to retain hours countywide instead of spending them on Sonoma's temporary library, it would have been a bad idea; capital costs are one-time, he argues, while operating savings from hours recur annually.
Dena Bliss disagrees, echoing commission criticism from county supervisors and, one year ago, a Sonoma County grand jury. The grand jury report found Cooper an "unresponsive" leader, noting that she made arbitrary decisions and even edited the minutes of public testimony at commission meetings to tone down criticism. Cooper defended her actions in a point-by-point rebuttal months later, and survived calls for her resignation from a position that pays $150,000 annually, plus $40,000 in benefits.
The library commission's recent budget discussion revealed just how dysfunctional and inactive a government agency can be. One baffled commissioner asked the group, "What has to happen before we can schedule a strategic plan?" Sometime in the upcoming year, replied another, the commission will start its "information gathering" to "begin the process of planning the strategic planning process."
In other words: Making a plan to make a plan to make a plan.