SUPERVISORS PASS THE BUCK
As Sonoma County supervisors heard complaints about the libraries' reduced hours, they went into action—at a snail's pace. More than 14 months later, Supervisor Mike McGuire called the first meeting of the newly appointed Library Joint Powers Agreement Advisory Review Committee. Since that time, McGuire and his representatives from each of the county's nine largest cities have been meeting to develop an improved JPA. When the committee's recommendations are finalized (McGuire suggests by October), public hearings will be held, and cities will review the proposed revisions. Eventually, they, and the county, will vote for the revisions, and an improved JPA, with some mechanism for increased funding, will result.
The process will take years.
Meanwhile, not one of the county's five supervisors, elected to manage our county's $1.3 billion in spending, believes temporary funds to restore hours should come from the discretionary $381 million general fund budget.
Since the library commission is an independent agency, county supervisors point out, correctly, that they have no legal obligation to augment library funding until a new JPA arrangement can be implemented. But do they have an ethical and professional obligation? This is the question they've been running away from.
Supervisors are the ones who legally appoint five out of seven of the library commissioners. They are the government body named by the "tax levy" clause of the 1975 JPA to "annually levy" sufficient taxes for "the purpose of purchasing property for, establishing and maintaining the county library."
And it's not as if the supervisors are unable to step in and provide money from the general fund to county departments or agencies that technically rely on earmarked funding. For example, they took an extra $8 million from the general fund to add to the tens of millions in revenue that the county already receives in gas taxes for roads and bridges.
As a concerned parent of young children who use the library, I first suggested this to my supervisor, Efren Carrillo, over a month ago. Like three other supervisors, he argued that the county had far more important things to do than temporarily restore library hours.
Last week, Carrillo provided extensive written answers to questions for this story. On the subject of funding an emergency fix for library hours, he replied: "The library is not a county department and the reduction in hours is not related to any reductions in county funding. The county is one member of the library joint powers authority. Any additional government funding to restore hours should be a shared responsibility. Additionally, the library faces major long-term challenges with expenses. Restoring hours for one year would not address those problems. It is more appropriate to think strategically about addressing the long-term challenges than funding a one-year temporary fix."
Carmen Finley disagrees. She cites the "tax levy" clause of the JPA and observes, "It sounds like the board of supervisors does have a direct responsibility to see that the library is adequately funded."
THE SAGA CONTINUES
According to county budget experts, although property tax revenues for the library are expected to rise in the coming year, they will be offset by a reduction of state library dollars that have entirely dried up. The news will get worse when new accounting rules make it necessary to add huge sums to library expenses to account for future pension and healthcare costs. Cooper also believes the staff is being overburdened by increased usage during reduced hours. Adding staff would be her top priority for additional funding.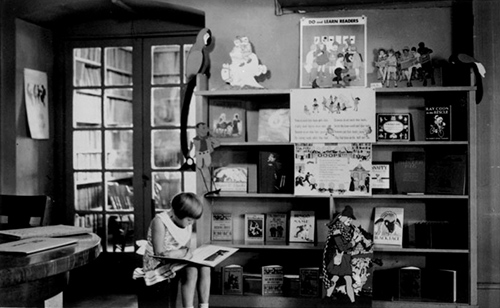 Courtesy Sonoma County Library History Annex
'IT'S THE RECESSION' Is it? Even during the Great Depression, children like Carmen Finley, above, had daily access to the library.
When asked what would happen were the supervisors simply to direct $400,000 to rehire part-time substitute workers to work on Mondays and evenings, Cooper explains that's not enough. "It would cost $1.7 million just to open again on Mondays, not including adding evening hours," she says. "And I would want to see the package. Would they guarantee the funding for five years, or open the libraries on Mondays for one year then close them again?"
Cooper dismisses such "band-aid" solutions, and hopes the JPA revision process endorses a new countywide parcel tax, dedicated to libraries. Only such increased structural funding, she believes, can restore the system's financial foundation, staffing and hours.
Another change in the JPA seems likely. Individual cities and supporters, like Sebastopol's Guy Wilson, have proposed donating funds to restore their own local branches' hours, but that's not possible: any donations go into the countywide system to benefit all branches, as per the JPA.
Efren Carrillo predicts that the JPA committee "will recommend removing the restriction in the current JPA that prohibits localized funding for expanding hours for a particular branch." But Cooper disagrees that wealthier cities should be allowed to provide longer library hours than poorer ones, like Cloverdale.
Sebastopol city council member Sarah Gurney, a mediator and member of the JPA review committee, is not holding her breath for short-term emergency funding. "To protect our regional public library system, the nine cities and the county need to collaborate," she says. "That means one of us can't just foist the financial responsibility—such as for guaranteeing baseline services and restoring Monday hours—on the other."
As befitting a professional mediator, Gurney feels assured that a common-ground solution will be found. "I have confidence in this committee's work, appreciate the sustained efforts of SOCOSOL, and hear our recent petitioners," she says.
Meanwhile, SOCOSOL wants a new JPA that has library commissioners elected by the public—with the power to fire the director.
"I will stand on the street corner with a tin cup and raise money for the library when I know that the money will be used to restore hours," Dena Bliss says. "But to hand Sandy Cooper more money would be insane. The library needs more money, a transparent budget and a management that can use the money responsibly.
"Right now, it doesn't have any of those things."