(This article first appeared in the New York Times Education Life on April 14, 2002).
The year was 1974 and I had just turned 16. The sexual revolution, Nixon's resignation and marijuana filled the air with new possibilities. I was about to enter my junior year at the academically elite Stuyvesant High. My school uniform was a used Army jacket, a beat-up brown cowboy hat and shoulder-length hair.
The previous term, I had dozed through English grammar as the teacher — soon to retire, nose red, gray hair flowing out of his ear (teenagers fixate on such things) — diagrammed sentence after sentence day after day. It was the most boring class I had ever taken. So when, junior year, we were permitted to select one elective, I jumped at the chance to take creative writing.
From the first day, it was clear Frank McCourt's class would be different. There was that impish smirk and lyrical Irish accent — I had never heard English spoken so poetically — and most unforgettably, the way he transformed the world into a divine comedy through his stories.
They weren't written stories. Mr. McCourt would not publish his first book, "Angela's Ashes," until 1996, when he was 64 and living on a teacher's pension. Instead, they were spoken tales of his Catholic-school upbringing in Ireland, his first jobs in New York City, his wondrous new daughter and his periodic battles with the school administration.
Writing stories and reading them to the class was our job, he said, not his. Mr. McCourt was the first teacher who ever suggested that our lives, even at 16, were useful. "Grist for the mill," he would call our juvenile experiences, and then he would try to find ways to get us to write about them. If we learned to write observantly, if we could bare our souls "with alacrity!" and "make it real," then we, too, could be writers.
Classes followed no fixed format: on any given day, it was impossible to predict whether he would be discussing our writing assignments, his ride on the subway that morning, the purpose of life or his lamentable salary. A photo I took for photo shop captured the theatrical spirit of the class. Mr. McCourt stands grasping the room's American flag, in front of a blackboard, upon which he has written: "FRANK McCOURT ANTI-LEUKEMIA FUND. GOAL: $1 FROM EVERY STUY STUDENT. ALL CONTRIBUTIONS ARE TAX DEDUCTIBLE."
There was, of course, no fund, and Mr. McCourt never tried to collect any money. But there were more than 2,000 Stuyvesant students — enough, theoretically, to dig him out of some impossible financial bind. It was an idea worthy of Jonathan Swift (a regularly assigned writer). And such wit made intellectualism cool.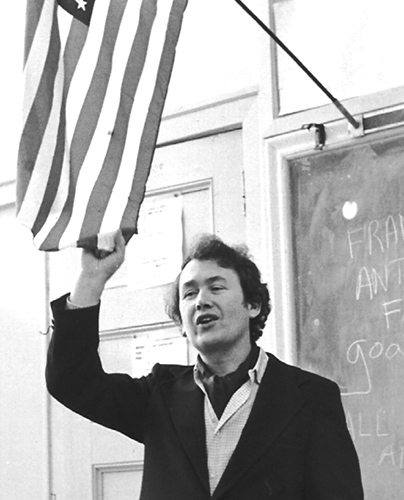 Being cool at 16 was everything. The first of the dozens of handwritten stories I wrote during four terms of McCourt classes was a parody of Johnny Carson called "The Johnny Cockroach Show." It earned a 75, with the comment: "Too slick and glib. This reveals little (if anything) of your writing skill. I wanted an essay/story piece so that I could see how you plan and develop an idea." Mr. McCourt was even less impressed by a story I wrote soon after, a disjointed science-fiction short about a microscopic universe. Mr. McCourt let me know cheap shots would go unappreciated. He gave me a 65, commenting, "Awkward, trite, irrelevant conclusion. You dragged it in by the ears. The story itself goes nowhere. What is the point, the conflict?"
The problem, it seemed, was that I wasn't digging inside for my material. To make us think more like writers, each of us had to write a short composition, then pass it around the room to classmates. By learning to critique our classmates, we would begin to turn such observations inward. For that assignment, I wrote about my reaction, as a 5-year-old, to the John F. Kennedy assassination.